2020 seminar


ECOS DEL SUR. MIRADAS EN TORNO A LA ECOLOGÍA POLÍTICA, EL COLONIALISMO Y LA NATURALEZA
SEMINARIO TEÓRICO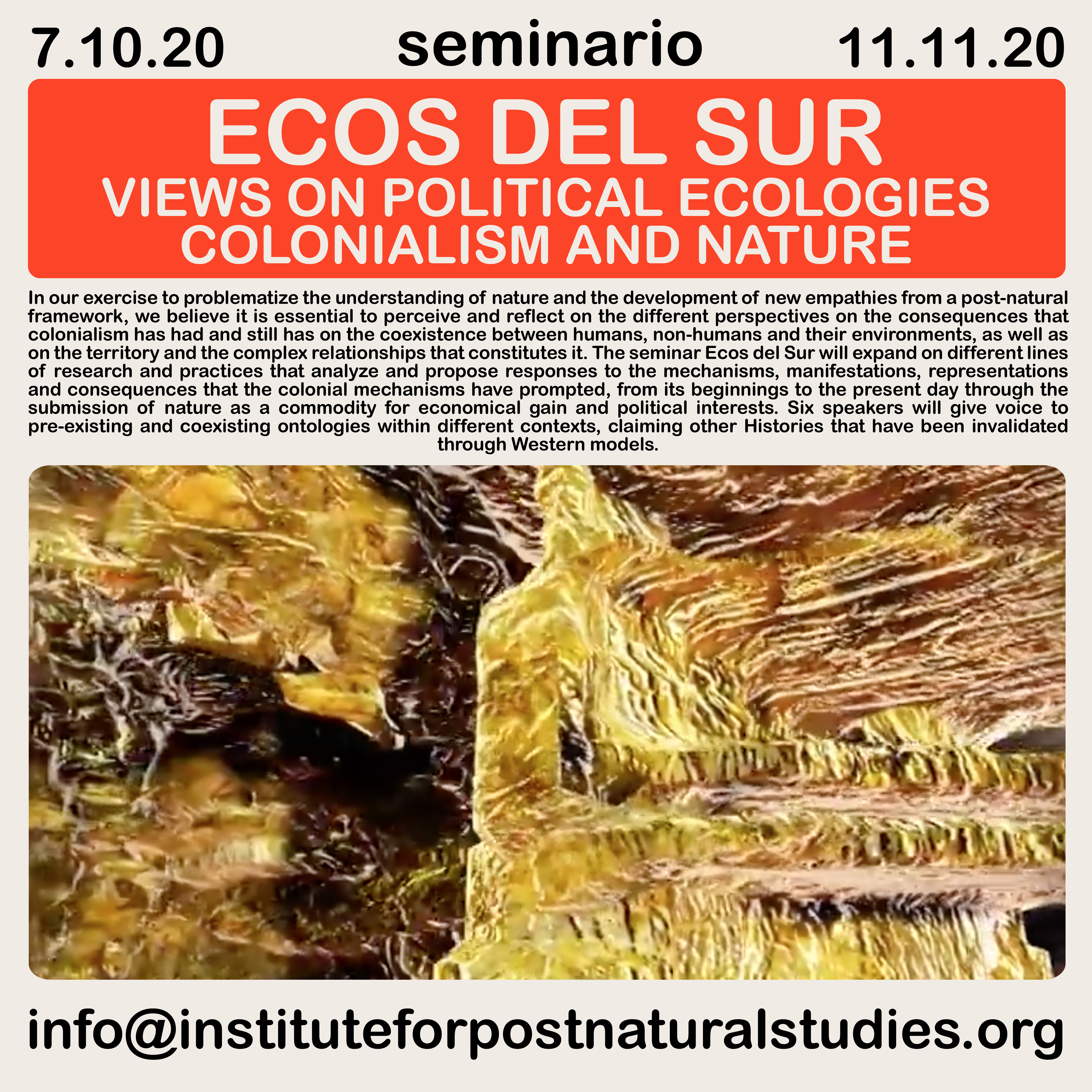 (6 SESIONES)

- MATRÍCULA 80€

Miércoles de 19:00 a 21:00 pm (UTC+1:00)

*El formato será virtual durante todo el seminario.


Inscripción y más información en:
info@instituteforpostnaturalstudies.org

SINOPSIS

Desde nuestro acercamiento a la postnaturaleza para la complejización del conocimiento de lo natural y el desarrollo de nuevas empatías, creemos imprescindible conocer y reflexionar sobre las distintas perspectivas en torno a las consecuencias que el colonialismo ha tenido y tiene en la convivencia entre humanos, no humanos y sus entornos, así como en el territorio y las complejas relaciones que lo constituyen.

En el seminario Ecos del sur profundizaremos en investigaciones y prácticas que analizan y proponen respuestas ante mecanismos, manifestaciones, representaciones y consecuencias que la empresa colonial ha provocado, desde sus inicios hasta nuestros días, mediante el sometimiento de la naturaleza como mercancía para la consecución de sus intereses económicos y políticos. Seis autoras darán voz a ontologías preexistentes y coexistentes en diferentes contextos, reivindicando otras historias que han sido anuladas a través de modelos occidentales.

Marisol de la Cadena, Susana Vargas, Azucena Castro, Paloma Contreras, Jonathan Castro, entre otras invitadas, nos adentrarán en problemáticas que van desde la intervención entre comunidades indígenas y el territorio a las transformaciones paisajísticas provocadas por prácticas extractivistas, o la instrumentalización de elementos naturales para la imposición de otros relatos. En cada sesión, se trabajará conjuntamente para profundizar en la comprensión de qué es la naturaleza como construcción cultural, dotándonos de herramientas que nos ayuden a revisar, desarmar y reformular posibles formas de relación naturaleza-cultura a través de la práctica artística.





CALENDARIO


07/Oct - Marisol de la Cadena
En la intersección entre STS (Science and Technology Studies) y los no-STS, Marisol desarrolla su trabajo a través de lo que llama "aperturas ontológicas", interesada en el estudio de la política, las multiespecies (o multi-entidades), el indigenismo, la historia y lo ahistórico, las antropologías del mundo y las antropologías de los mundos. En todas estas áreas su preocupación se centra en la relación entre conceptos y métodos y en las interfaces como sitios analíticos. Más prosaicamente, le interesan los conceptos etnográficos, aquellos que desdibujan la distinción entre la teoría y lo empírico porque no están exentos de esta última.
https://www.marisoldelacadena.com
14/Oct - Susana Vargas
Susana Vargas Cervantes escribe, investiga y enseña. Con su trabajo analiza las conexiones entre género, sexualidad, clase y tonalidades de la piel para reconceptualizar la noción de pigmentocracia. Es autora del libro The Little Old Lady Killer: The Sensationalized Crimes of Mexico's First Female Serial Killer (NYU Press, 2019) y Mujercitos (Editorial RM, 2015). Es doctora en Historia del Arte y Estudios de la Comunicación por la Universidad de McGill en Montreal, Canadá. Realizó un posdoctorado en el Instituto de Investigaciones Estéticas y el Centro de Investigaciones sobre América del Norte de la UNAM. Después de una Fulbright Visiting Fellow en Columbia University, se ha incorporado al Departamento de Comunicación y Media de la Carleton University. https://susanisima.com
04/Nov - Paloma Contreras
Paloma Contreras Lomas vive y trabaja en la Ciudad de México y es parte del colectivo artístico Biquini Wax EPS. Mediante el dibujo, la escultura, el performance, la escritura y la instalación multimedia, aborda temas de género, violencia, estructura y herencia política, segregación de clases y post-colonialismo. Usando el paisaje como testigo en sus videos, y por medio de la creación de vestuario y personajes con carácter antropológico, logra retratos rurales a través del thriller mexicano y explora la exotización de la clase indígena, la culpa colonial y la identidad construida de la clase media. Utilizando la investigación y el acercamiento a ciertos grupos o localidades, su trabajo contiene lazos afectivos y en ocasiones muestra una proyección autobiográfica. https://www.pequodco.com/esposiciones-2020-espanol/el-pantano-de-las-animas


11/Nov - Jonathan Castro
Jonathan Castro es un diseñador gráfico peruano con sede en Ámsterdam. Su investigación desde la imagen y el sonido explora territorios oscuros para alejarse de la certeza y orientar hacia lo desconocido. Con su trabajo busca crear posibles escenarios que imagina en torno al pensamiento de la identidad y la preservación, pero interpretadas no de manera literal o vernacular sino como vestigios o ruinas por descubrir. Está interesado en la relación y fusión de técnicas, materiales y texturas opuestas, y softwares relativos a diferentes contextos, razones y tiempos para así construir sus propias herramientas y lenguajes de expresión. https://jonathancastro.pe
ENG
THEORETICAL SEMINAR
ECOS DEL SUR.
VIEWS ON POLITICAL ECOLOGIES, COLONIALISM AND NATURE



(6 SESIONES) - INSCRIPTION 80€
Wednesdays from 19:00 to 21:00 pm (UTC+1:00)
*The seminar will be held online



Inscription and more information at:
info@instituteforpostnaturalstudies.org

SYNOPSIS

In an exercise to problematize the understanding of nature and the development of new empathies from a post-natural framework, we believe it is essential to perceive and reflect on the different perspectives on the consequences that colonialism has had and still has on the coexistence between humans, non-humans and their environments, as well as on the territory and their complicated relationships.

The seminar Ecos del Sur will expand the different lines of research and practices that analyze and propose responses to the mechanisms, manifestations, representations and consequences that the colonial institutions have prompted, from its beginnings to the present day, through the submission of nature as a commodity for economical gain and political interests. Six speakers will give voice to pre-existing and coexisting ontologies within different contexts, claiming other Histories that have been invalidated through Western models.

Marisol de la Cadena, Susana Vargas, Azucena Castro, Paloma Contreras and Jonathan Castro, among others, will introduce us to issues ranging from the intervention between indigenous communities and the territory, to the landscape transformations caused by extractive practices, or the instrumentalization of natural elements for the imposition of alternative narratives. In each session, we will work together to understand nature as a cultural construction, providing us with tools that help us to rethink, dismantle and reformulate possible forms of the nature-culture relationship through artistic practices.

CALENDAR


07/Oct - Marisol de la Cadena
Located in the intersection between STS (Science and Technology Studies) and non-STS, Marisol de la Cadena works through what she calls "ontological openings". Her interests include the study of politics, multispecies (or multi-entities), indigeneity, history and the a-historical, world anthropologies and the anthropologies of worlds. In all these areas her concern is in the relationship between concepts and methods, and interfaces as analytical spaces. More prosaically, she is interested in ethnographic concepts – those that blur the distinction between theory and the empirical because they are not without the latter. https://www.marisoldelacadena.com


14/Oct - Susana Vargas


Susana Vargas Cervantes writes, researches and teaches. Her research mines the connections between gender, sexuality, class and skin tonalities to reconceptualize pigmentocracy. She is the author of the book The Little Old Lady Killer: The Sensationalized Crimes of Mexico's First Female Serial Killer (NYU Press, 2019) and Mujercitos (Editorial RM, 2015). After a Fulbright Visiting Fellowship at Columbia University, she joined the Department of Communication and Media Studies at Carleton University. She holds a PhD in Art History and Communication Studies from McGill University, Montreal, Canada. She completed postdoctoral research at the Institute of Aesthetic Research and the Research Center on North America at the Universidad Nacional Autónoma de México (UNAM).

https://susanisima.com


21/Oct - Azucena Castro


Azucena de Castro recently presented her doctorate thesis "Strange ecologies. Postnatural readings of extensive Latin American poems of the 21st century (Roxana Miranda Rupailaf, Daniel Samoilovich and Luigi Amara)" at the Department of Romantic and Classic Studies at Stockholm University. She holds a Master's degree in media-culture-literature with orientation in Spanish from the University of Lund, a Bachelor's degree as well as a Teaching degree in English and English literature from Universidad de Córdoba, Argentina. In her doctoral dissertation she examined how a corpus of contemporary long poems from Latin American writers manifest the current postnatural condition. In her research she focuses on assemblages between human and nonhuman, organic and nonorganic and the articulations between life and matter from a post-natural paradigm situated in extractive zones in Latin America.

https://su-se.academia.edu/AzucenaCastro
28/Oct - Beatriz Santiago Muñoz
Beatriz Santiago Muñoz is an artist from San Juan, Puerto Rico. She works in moving image with particular attention to social structures and their relationship to aesthetics. Her works arise out of long periods of research, observation, and documentation, in which the camera is present as an object with social implications and as an instrument mediating aesthetic thought. Subjects of her recent work have been politically fraught: an artist accused of terrorism, post-military land, mega-factories, the relationship between artwork and work, and a concrete poet/union leader. Her film and video work is always in-between a performance and its document, and sometimes unfolds into a double existence. www.guggenheim.org/artwork/artist/beatriz-santiago-munoz


04/Nov - Paloma Contreras


Paloma Contreras Lomas lives and works in Mexico City and is part of the art collective Biquini Wax EPS. Through drawing, sculpture, performance, writing and multimedia installation, she addresses issues of gender, violence, political structure and heritage, class segregation and post-colonialism. Using the landscape as a witness in her videos, and through the creation of costumes and characters with an anthropological character, she achieves rural portraits through the Mexican thriller and explores the exoticism of the indigenous class, colonial guilt and the constructed identity of the middle class. Using research and approaching certain groups or locations, her work contains emotional ties and sometimes shows an autobiographical projection.

https://www.pequodco.com/esposiciones-2020-espanol/el-pantano-de-las-animas



11/Nov - Jonathan Castro


Jonathan Castro is a Peruvian designer based in Amsterdam. His research of image and sound explores dark territories moving away from certainty to orient yourself towards the unknown. He seeks to create possible scenarios that imagines from the thought of identity and preservation, but interpreted not literally or vernacularly but as vestiges or ruins to discover. He is interested in the relationship and fusion of opposing techniques, materials and textures, as well as softwares related to different contexts, reasons and times in order to build his own tools and expression languages.

https://jonathancastro.pe