POSTNATURALEZA Y CREACIÓN CONTEMPORANEA
SEMINARIO TEÓRICO
(8 SESIONES) - MATRÍCULA 160€
Miércoles de 19:00 a 21:00 pm (UTC+1:00)
Desde el 19 de mayo al 30 de junio
*El formato será virtual durante todo el seminario.



Inscripción y más información en:
studies@instituteforpostnaturalstudies.org


SINOPSIS

La idea de una naturaleza romantizada como escenario de fondo o marco neutral donde se desarrolla la actividad humana ya no es válida, y debe ser reemplazada por una reflexión más amplia y compleja. El entorno natural no se puede leer ya únicamente como un recurso que debe ser administrado o que impone las circunstancias a las que debemos adaptarnos, sino como una de las principales construcciones culturales de la modernidad. Este seminario girará en torno al concepto de la post-naturaleza, entendiéndola como sujeto político y lugar en conflicto, y establecerá una plataforma de debate desde donde discutir nuevos acercamientos a la práctica artística a través de la ecología política, las estéticas post-naturales, y las nuevas éticas de creación que contribuyan a la definitiva disolución del binomio naturaleza-cultura.

La pérdida de centralidad de lo humano, las consecuencias de la acción antrópica, la estética ambiental, la alteridad o las reproducciones y desplazamientos de fenómenos naturales, han reconfigurado a lo largo del último siglo la forma en que el pensamiento se compromete o problematiza lo natural, generando una discusión que difumina los límites entre la estética, la ética y la política. Esta relación, a menudo conflictiva y antagónica, ha sido fuertemente discutida desde muchas perspectivas, y hoy se ha convertido en una controversia fundamental para entender las transformaciones de la cultura contemporánea. El seminario navegará por conceptos y términos como el Antropoceno y sus múltiples acepciones, los parlamentos ecológicos y el perspectivismo, el colonialismo y las necropolíticas asociadas a los recursos, la Ontología Orientada a los Objetos o los ecofeminismos para, de forma teórica y a través de sesiones críticas, pero también mediante experiencias prácticas, articular un cambio de perspectiva respecto al problema de la Naturaleza en el momento contemporáneo.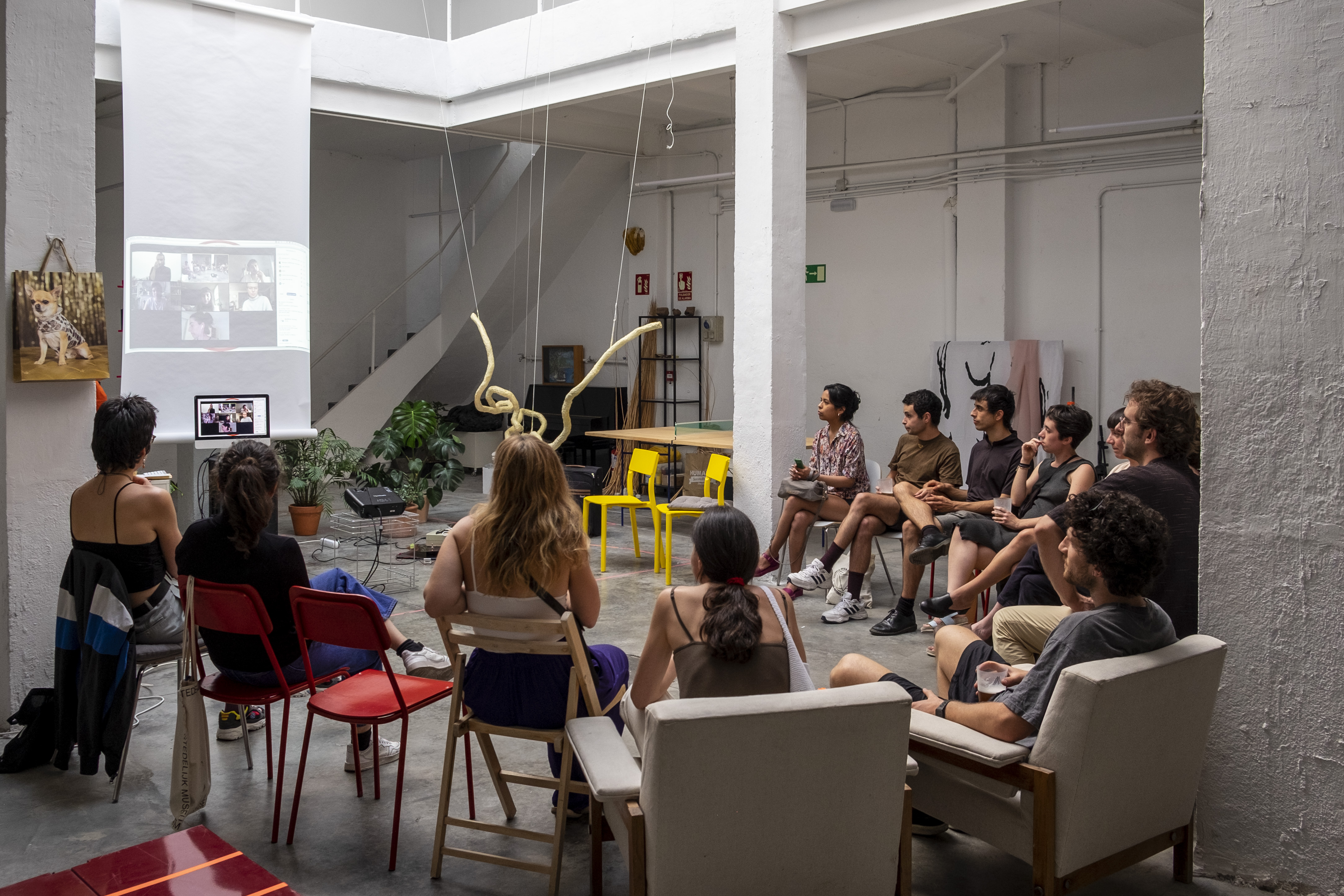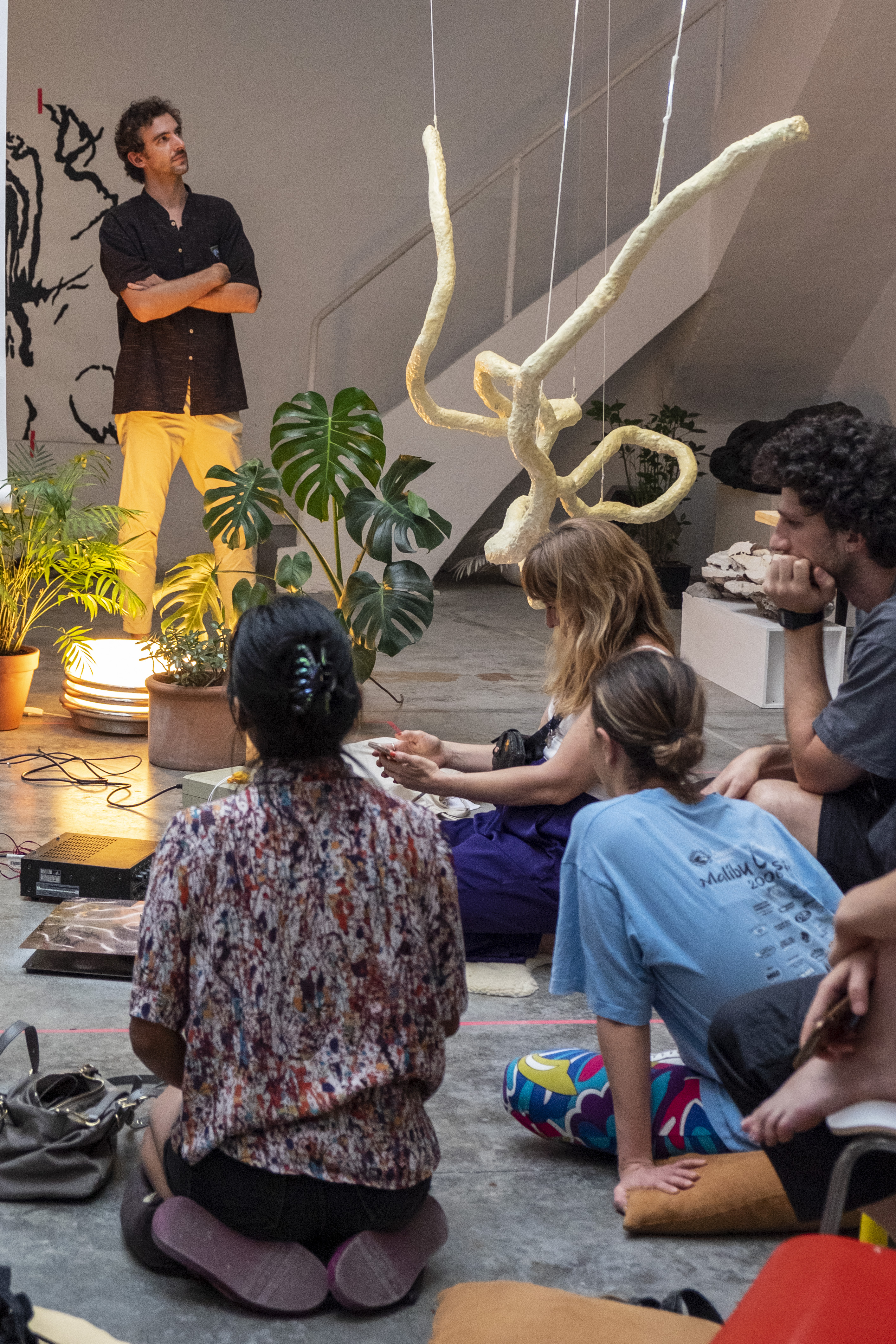 PROGRAMA Y SESIONES

︎Lecturas recomendadas
Los textos se discutirán y analizarán durante las clases, y aunque las lecturas serán siempre optativas, se recomienda leer y analizar al menos uno de los textos propuestos por sesión para facilitar el debate y la conversación en grupo.

︎Material online
Todo el material bibliográfico, además de contenido audiovisual complementario, entrevistas y textos relacionados con el curso quedará disponible en una carpeta compartida en la red. Cada semana se subirán los textos recomendados para la siguiente sesión, además de otra bibliografía que profundiza en cada tema. Aunque la mayoría de los documentos originales sólo se encuentran en inglés, se ha tratado de que los textos que compartamos en clase siempre estén traducidos. Además, se abrirá un espacio para compartir material de interés entre todo/as lo/as participantes.

︎Investigaciones y presentaciones
La idea del curso es que sirva como plataforma para desarrollar proyectos, textos, obras y cualquier manifestación relacionada con la temática del curso, en cualquier formato (texto, instalación, performance, activación, escultura, imagen, reflexión, etc.) y con cualquier extensión o duración. Aunque la realización de estos trabajos y sus respectivas presentaciones es totalmente optativa, el seminario se ofrece como un lugar para testear y poner a prueba proyectos, ideas o experimentos individuales que podamos desarrollar, analizar y pensar en grupo. Se invitará a artistas de diferentes disciplinas para compartir las propuestas, y realizaremos además una labor de documentación y edición conjunta de los mismos, que pasarán a formar parte del archivo After Nature y con los que se propondrá llevar a cabo una Publicación impresa.

︎Invitadxs
Como parte importante del seminario, se tratará de ampliar la red de afinidades y contactos con artistas, arquitecto/as y pensadore/as con quienes compartiremos sus procesos creativos, su mirada sobre el problema de la Naturaleza, así como sesiones de discusión sobre las líneas de investigación propuestas. Las visitas serán tanto en persona como online.

CALENDARIO
Bloques temáticos, actividades y bibliografía asociada



Anarqueologías de lo Postnatural




Est(éticas) Postapocalípticas

FOCUS I - Prácticas artísticas contemporáneas



︎Lecturas recomendadas
- Lord Byron. Oscuridad. 1816
- Latour, Bruno. Esperando a Gaia. 2011
- Morton, Timothy. Ecología sin Naturaleza. 2016

︎Bibliografía relacionada
- Ballard, J. The Drowned World. 1962
- Sloterdijk, Peter. Terror from the Air, trans. Amy Patton and Steve Corcoran. Los Angeles: Semiotext(e), 2009
- Morton, Timothy. Hyperobjects. 2013
- Di Palma, Vittoria. Wasteland, a history. 2014
- Dörries, Matthias. "The Politics of Atmospheric Sciences: 'Nuclear Winter' and Global Climate Change," Osiris, vol. 26, no. 1. 2011
- Horn, Eva. The last man. 2014
- Parikka, Jussi. A Geology of Media. University of Minnesota Press 2015



Re(velando) el Antropoceno I: Antropoceno, Capitaloceno, Chthuluceno, Antrobsceno



Presentación líneas de investigación I

︎Lecturas Recomendadas
- Haraway, Donna J., Pensamiento Tentacular: Antropoceno, Capitaloceno, Chthuluceno. 2016
- Parikka, Jussi. (Entrevista) Arqueología mediática desde la Narturaleza. 2015
- Jason Moore. Antropoceno vs Capitaloceno. 2018

︎Bibliografía relacionada
- Haraway, Donna J. "Staying with the Trouble: Anthropocene, Capitalocene, Chthulucene," in Anthropocene or Capitalocene? Nature, History, and the Crisis of Capitalism, ed. Jason W. Moore. Oakland, CA: PM Press, 2016
- Davis, Heather and Turpin, Etienne. Art in the Anthropocene: Encounters Among Aesthetics, Politics, Environments and Epistemologies. 2016
- Latour, Bruno. "Why Has Critique Run Out of Steam? From Matters of Fact to Matters of Concern," Critical Inquiry, vol. 30, no. 2. 2004
- Paul, James and B. Steger, Manfred. "Levels of Subjective Globalization: Ideologies, Imaginaries, Ontologies," Perspectives on Global Development and Technology. 2013
- Demos, T.J. Against the Anthropocene: Visual Culture
and Environment Today. 2017



Re(velando) el Antropoceno II. FOCUS II - Prácticas artísticas contemporáneas





Presentación líneas de investigación II





Ecologías Postnaturales I



︎Lecturas recomendadas
- Braidotti, Rosi. Por una política afirmativa. Introducción. 2018
- Más allá de lo humano. Varios. Bartlebooth. 2018
- Steyerl, Hito. Políticas del Arte. Los condenados de la pantalla, 2012
- Haraway, Donna J. Como una hoja. (fragmentos) 2018

︎Bibliografía relacionada
- Bennett, Jane. Vibrant Matter: A Political Ecology of Things. Duke University Press. 2009
- Braidotti, Rosi. Transposiciones. 2009
- Stringer, Anna-Sophie & Turpin, Etienne. Land & Animal & Nonanimal. 2014
- Morton, Timothy. Dark Ecology: For a Logic of Future Coexistence (Columbia University Press). 2016.
- Demos, T.J. Art after Nature: The Post-natural Condition. 2017

El Jardín de las Delicias: Geopolítica y botánica, desplazamientos de semillas y cuerpos.

Visita al Jardín Botánico



Ecologías Postnaturales II



FOCUS III - Prácticas artísticas contemporáneas



Presentaciones finales



Sesión crítica final, exposiciones y conversaciones en torno a las líneas de investigación. Documentación de los trabajos.

︎Artistas invitadxs
*Las ponencias se acompañarán en ocasiones de intervenciones de artistas invitado/as.
**Estas sesiones se llevarán a cabo fuera del IPS. Los horarios y lugares pueden variar, y se confirmarán con antelación.


ENG


Inscriptions and more info at studies@instituteforpostnaturalstudies.org


C/ Pilarica 81, 28026 Madrid

SYNOPSIS





The idea of a romanticized nature as a background scenario or neutral framework where human activity takes place is no longer valid, and must be replaced by a broader and more complex reflection. The natural environment can no longer be read only as a resource that is managed, nor one that imposes the circumstances to which we must adapt, but as one of the main cultural constructions of modernity.

This seminar will revolve around the concept of Postnature, understanding it as a political subject and place in conflict, and will function as a debate platform from which to investigate, deepen, communicate and discuss new approaches to artistic practice through the political ecology, post-natural aesthetics, and the creation of new ethics that contribute to the definitive dissolution of the nature-culture binomial.

The loss of centrality of the human, the consequences of anthropic action, environmental aesthetics, the alterity or the reproductions and displacements of natural phenomena, have reconfigured throughout the last century the way in which thought compromises or problematizes the natural, generating a discussion that blurs the limits between aesthetics, ethics and politics.This relationship, often conflicting and antagonistic, has been strongly discussed from many perspectives, and today has become a fundamental controversy for understanding the transformations of contemporary culture. After Nature will navigate concepts and terms such as the Anthropocene and its multiple meanings, ecological parliaments and perspectivism, colonialism and necropolitics associated with resources, Object-Oriented Ontology or ecofeminisms in order to, theoretically and through critical sessions but also through practical experiences, articulate a change of perspective regarding the problem of Nature in the contemporary moment.





PROGRAM




︎Recommended literature

The texts will be discussed and analyzed during the classes, and although the readings will always be optional, it is recommended that at least one of the texts proposed per session be read and analyzed to facilitate group discussion and conversation.



︎Online material
All the bibliographic material, as well as complementary audiovisual content, interviews and texts related to the course will be available in a shared folder on the web. Each week, the recommended texts for the next session will be uploaded, as well as another bibliography that goes deeper into each topic. Although most of the original documents are only in English, we have tried to ensure that the texts we share in class are always translated to Spanish. In addition, an online space will be opened to share interesting material among all participants.



︎Research and presentations




The idea is that the course serves as a platform for project development, texts, works and any manifestation related to the theme of the course, in any format (text, installation, performance, activation, sculpture, image, reflection, etc) and with any extension or duration. Although the realization of these works and their respective presentations is totally optional, the seminar is offered as a place to experiment and test individual projects, ideas or experiments that we can develop, analyze and think about in a group. Artists from different disciplines will be invited to share their proposals, and we will also document and edit them together, which will become part of the After Nature archive and with which a printed publication will be proposed.



︎Guests


As an important part of the seminar, we will try to expand the network of affinities and contacts with artists, architects and thinkers with whom we will share their creative processes, their view on the problem of Nature, as well as discussion sessions on the proposed lines of research. The visits will be both in person and online.





*The lectures will be accompanied on occasions by interventions of guest artists.

**These sessions will be held outside the Institute. Time and places may vary, and will be confirmed in advance.