'ROSA+INVIERNO+PALABRAS+MANTEL'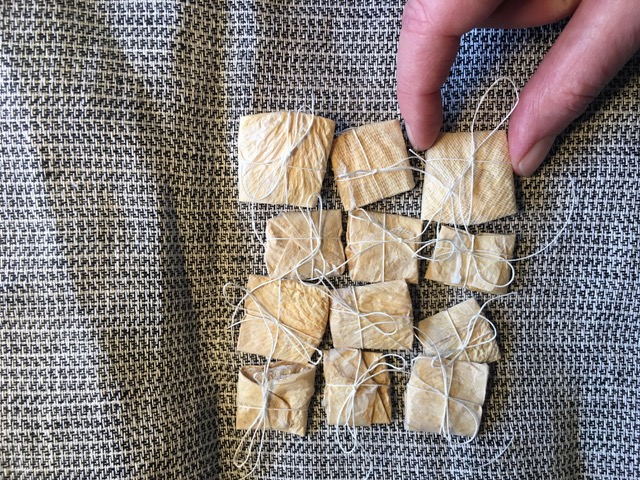 2019
Alexandra Kuhn

Antes, en otoño del 2018, recolecté algunos pétalos de rosa y los cuidé para que no desaparecieran. Todos eran pétalos de una misma rosa, diferentes e iguales a la vez. También pude recolectar algunas palabras que parecían positivas, palabras que resonaban a mi alrededor durante el tiempo que duró la recolección y el cuido. Cada palabra la pude preservar, para no olvidarla, escribiéndola. Luego uní pétalos y palabras, lo hice guardando las palabras recogidas en cada pétalo preservado. Doblé cada pétalo como un mantel, esto lo hice recordando un cuadro de Carducho en el convento de Las Carboneras, Madrid, donde el mantel de la última cena se ve doblado, planchado, almidonado. Un mantel cuidado. Pensé que las palabras quedaron preservadas. Pero una vez preservadas las noté encerradas y fue cuando entendí que el trabajo era realmente desplegarlas. Con el tiempo me pregunté si yo estaba haciendo hablar a las flores o si las flores hablaban a través de mí. Por eso luego de desdoblarlas pensé que, si me cubro mi dedo con un pétalo, podría, en vez de humanizar a la rosa con mis palabras, lograr plantificarme yo con el pétalo.
La obra es una serie de 10 videos cortos (y/o fotogramas de los vídeos), en cámara lenta desdoblando los pétalos empalabrados y forrándome luego los dedos. Después del proceso lo que más me importaba era poder dejar por un lapso mi natural antropocentrismo plantificándome. Estas son las palabras que cuidé y que accionan mi intervención: componer, construir, cuidar, enlazar, entrelazar, moderar, templar, unir, plegar y desplegar, desdoblar, desvelar, concordia, convivencia, considerar, empatizar, armonizar, amabilidad, circulación, exuberancia, variedad, convivencia, candidez.




In the fall of 2018, I collected some rose petals and took care of them so that they would not disappear. They were all petals of the same rose, different and the same at the same time. I was also able to collect some words that seemed positive, words that echoed around me during the time of harvesting and caring. I was able to preserve each word, so as not to forget it, by writing it down. Then I joined petals and words, I did it by keeping the collected words in each preserved petal. I folded each petal like a tablecloth, this I did remembering a painting by Carducho in the convent of Las Carboneras, Madrid, where the tablecloth of the last supper is folded, ironed, starched. A careful tablecloth. I thought the words were preserved. But once they were preserved, I noticed them locked up and that's when I understood that the job was really to unfold them. In time I wondered if I was making the flowers speak or if the flowers were speaking through me. That is why after unfolding them I thought that if I covered my finger with a petal, I could, instead of humanizing the rose with my words, manage to plan myself with the petal.

The work is a series of 10 short videos (and/or frames from the videos), in slow motion, unfolding the petals and then covering my fingers. After the process what mattered most to me was to be able to leave my natural anthropocentric planning for a while. These are the words that I took care of and that activated my intervention: to compose, to construct, to take care of, to interlace, to moderate, to temper, to unite, to fold and to unfold, to unveil, to agree, to coexist, to consider, to empathize, to harmonize, kindness, circulation, exuberance, variety, coexistence, candidness.